Creating Your Own Cutting Files for Stamps
STEP 1: HAND STAMP your images, draw an outline
The purpose of this tutorial is to teach you to create your own cutting files in Cricut Design Space, for rubber or acrylic stamps. Once you create and cut the shapes from the paper you like to use on your cards or in your scrapbooks, you can easily hand stamp the image onto the cut shapes and avoid time-consuming (and often, painful for those with arthritis) "fussy cutting" of the images you've stamped.
Please note: It is my fervent belief this is not in violation of any stamp manufacturer's Copyright or Angel Policy, as even the most strict rules allow you to hand stamp the images you have purchased. After stamping, you will be creating your own outline of these stamps and coloring OVER the stamped image. Your created art is what is then scanned into your computer, saved as a .jpeg image, and downloaded into Cricut Design Space to create the cutting file.
STEP 2: CREATE AND PREP YOUR IMAGE FOR SCANNING
I use a black ShinHan Touch Twin marker*, which has both a fine nib and broad nib, for maximum coverage with crisp edges, to completely fill the outline of the stamp shape I have created. Remember: If you want larger white space around your stamped image, just make your outline around the stamp thicker. This is personal preference.
Using your Cricut or a 1" hole punch, cut a circle that is precisely 1" from black paper. Lay or lightly adhere this circle onto your white page with your stamped images. The purpose of this circle is to help you accurately size your cutting files in Design Space after scanning.
STEP 3: SCAN Your drawn shapes with circle
Set your scanner to "Black and White" with a resolution of at least 600 dots per inch (DPI). Scan your drawn shapes WITH the circle affixed, and save the file to your computer as a .jpeg file.
STEP 4: CREATE YOUR CUTTING FILE IN CRICUT DESIGN SPACE
Next, you'll want to upload your scanned/save file into Cricut Design space.
Go to www.Cricut.com, sign into your account, and create a "New Project."
To upload a file, go to the bottom left icon (picture 1), click and browse for your file to upload. Locate your file, click up upload your .jpeg file (pictures 1 and 2, below).
Your image will pop up on the left side of your Cricut screen, with directions to "Select Image Type" (picture 3, below). Your image is very basic with high contrast, so you can select the top button, "Simple." Select Continue (bottom right) and your image will next appear on full screen, with your Canvas editors appearing on the upper left side, "Select & Erase" (picture 4, below).
First, select the "Magic Wand" (first icon). Drag your wand over to the white background and click on your mouse. This will remove the background from your scanned image; you'll see a gray and white checkerboard. Scroll around your image to see if there are any white spaces still remaining in your images; for example, look here at the chick image that had the two egg shells on either side. I want those two white areas cut out by my Cricut -- this will give your cut shape more of the appearance of "hand cut." Simply drag your wand into each of the two areas (separately) and click again.
Next, you'll want to "clean up" your file, removing any stray marks that you don't want your Cricut to cut. This might be a scanned line at the bottom of your images, or ink spots or dust from your scanner bed. Select your "Eraser" (second icon). Drag the eraser to where you want to clean up, and click while hovering over that which you want to erase. Preview your file, looking for any errant marks, by clicking "Preview" on the lower left.
All good? Click "Continue" in the lower right.
Next, you'll want to save this as an uploaded file. You'll see the image in picture 5, below -- asking whether you'd like to save this file as a write and cut, or as a cutting file. Select "Cut image" on the right; the green box will highlight your selection. Add your file name, and don't forget to add tags so you can find this file again. Your title might be the name/number of your stamp set, and tags might be some of the specific cut shapes, e.g., bunny, chick, Easter. Click Save, green button lower right.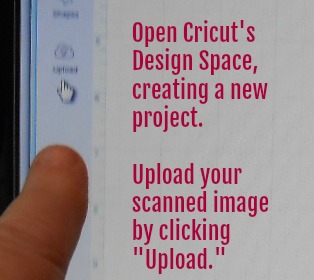 STEP 5: FINISHING YOUR CUTTING FILE
Once your shapes file is saved as an uploaded image, click on it and then click "Insert", bottom right, to have this image inserted onto your Cricut screen/mat. Once it is on your screen/mat, size it down by first, KEEPING IT LOCKED (lower left), and dragging the lower right corner upwards and to the left, to make the image smaller. Remember your 1" black circle? You'll know you're almost there by matching up that 1" black circle to fit within your 1"x1" grid on your screen.
Highlight the image by selecting all. Use your "Contour" feature (lower right on your Cricut screen) to hide every image EXCEPT the 1" circle. Click the X on the Contour box (upper right) to return to your screen, where you should see only the 1" circle. Precisely set the circle's dimensions by UNLOCKING the image (lower left icon) and then going up to your screen's tool bar to find the width and height setting feature. Set each to exactly 1". Return to the Contour page and now "Show ALL" your shapes, but HIDE the circle .. it's work is done here!
Voila! You now have cutting files for this stamp set.
As you have it now, all of these files will cut together UNLESS you HIDE the shapes you don't want (by contouring again, or clicking on the eye shape in the right of your screen) OR separate each of the files by slicing and ungrouping each of the images separately. I like to have each image separately, so I do this for all of my cutting files, and then "group" them together for my ease of use.
I hope you have found this tutorial helpful.
* ShinHan Touch Twin markers, and the C1706 - Easter Greetings" stamp set shown here, are available from your Close To My Heart Independent Consultant.